Defeat MSA Down Under, Defeat MSA Alliance and MSA United International Consortium associated charities are excited to announce the world's first MSA virtual conference! The Global MSA Virtual Support Symposium is FREE FOR ALL and will take place on Saturday, the 19th of September, 2020.
For MSA community members outside of North America, the entire conference will be recorded. Except for the live streaming of the film (which will be 7:00 PM EST in the US and 9:00 AM AEST on 20 September 2020), the entire conference will be viewable after the meeting.
We want to express our heartfelt thanks to the following for their vital support for this conference:
BIOHAVEN PHARMACEUTICALS – GOLD LEVEL SUPPORTER
THERAVANCE BIOPHARMA – SILVER LEVEL SUPPORTER
LUNDBECK, USA – BRONZE LEVEL SUPPORTER
We call all members of the MSA community worldwide: patients, caregivers, former caregivers, advocates, clinicians, researchers, industry leaders, all charities and friends to join with us for this amazing conference!
Also, as a further thank you to our supporters and hundreds of volunteers worldwide, and as a celebration of life and unity in our collective battle against multiple system atrophy, we invite all conference attendees to join us for the first live streaming of an award winning documentary: "A Day for Susana" (Um Dia Para Susana).
This remarkable film is the first feature length documentary about someone with MSA. In this case, it is a story about world champion Brazilian athlete and MSA warrior Susana Schnarndorf. You can watch the trailer at the bottom of this post. The film is in Portuguese with English subtitles.
And please spread the word – let us come together – join our hearts and minds toward one purpose: To Defeat MSA Now! To Register For the Free Conference and Film, Visit: www.MSA-Conference.org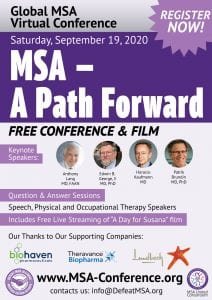 SEE THE FILM TRAILER FOR "A DAY FOR SUSANA" HERE: https://www.youtube.com/watch?v=6Qqs9Zir7EM