"But I'd of had to miss the dance…" – Anne Kastelic (Caregiver, Cleveland, Ohio)
Today I opened Facebook to see a call for a caregiver writing opportunity for Defeat MSA's "Caregiver's Blog." The idea is to share our story in an effort to help others on the MSA journey. This to me, is a great way to provide insights from our journey to help those who are not quite as far down the curve of this MSA winding road. I thought I would start by giving you an introduction to who we are and our MSA journey.
The patient was my husband Joe, a very active fire fighter for a suburb of Cleveland, Ohio. If you know firemen, you know they work hard at their full-time job but all of them also have part-time jobs because they are only scheduled to work every 3 days, although it is for a 24-hour shift when on duty. Joe was no different. He always had a second job or more. He wanted to be busy. He was a people person who loved to help his family, friends, neighbors, and anyone who crossed his path on a given day.
We met at a local dance bar when I was a nursing school student. He was a part-time fire fighter and going to paramedic school. I neglected to give him my phone number at the end of the night, but he was "resourceful and connected" – so to speak. He called his policeman friend and had my car license plate run. It was my mom's car so he got my parents phone number. Unfortunately for him, the "rule" was "don't give my school dorm phone number to anyone!" My mom took his number and called me. We met the next weekend because it intrigued me that he actually had my license plate run. If you asked him, he was hoping a nursing school student could help him with his paramedic school work. We were married 4 years later. He started working as a full-time fire fighter. I became a pediatric nurse. Over the years we had a daughter and a son, moved to a rural area and enjoyed a small-town atmosphere. He became a city councilman, got his auctioneering license and renovated our home. As a fire fighter he felt he should stay fit so exercise was part of his life. He was a runner – every 3 days he ran 5+ miles. He ran 5K, 10K races every weekend – often bringing home the trophy for his age group.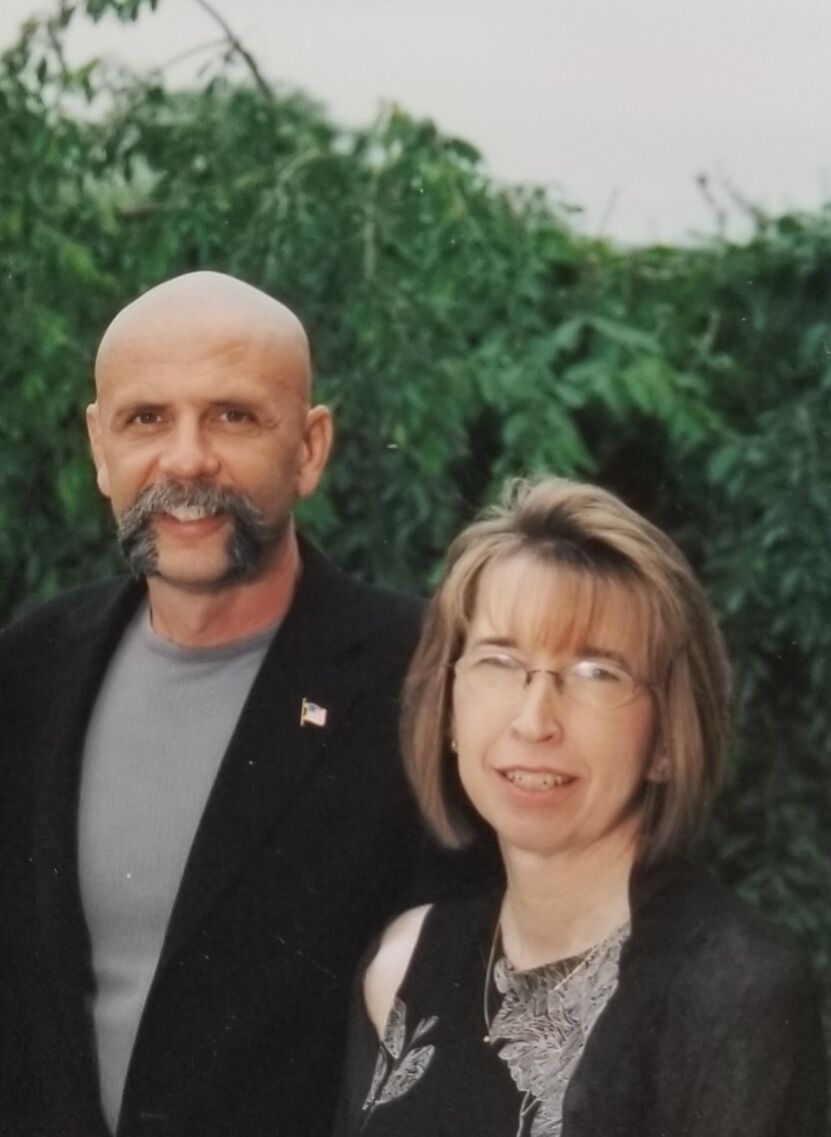 Then one year, he began to notice a tremor in his left foot after working out. He couldn't see it but could feel it. His mom had been treated for Parkinson's disease for many years so he suspected he had Parkinson's too. He didn't say anything to me and because it wasn't visible I had no idea. He made an appointment at the Cleveland Clinic to see what a neurologist would say. They did some basic testing but had no opinion initially. He was having shoulder and knee issues, so he was seeing an orthopedic surgeon. It was decided he needed a "scope of his shoulder." On the day of the surgery, the orthopedic doctor called the neurologist to get approval for anesthesia. The neurologist gave the okay but he was not happy to be "put in that situation." We were not happy with this neurologist so we turned to a new neurologist. Over the next few years, Joe was seeing 3 different neurologists, as they each had a different neurology focus – one was a general neurologist, one focused on sleep apnea and then we transitioned to a movement disorder neurologist. It would take 3 ½ years to reach a diagnosis of MSA – P.
It is my understanding that is the average time for an MSA diagnosis. Joe's MSA journey was like many others. It started as a small worrisome inconvenience but no one really knew what to call it. He eventually had a morphine pain pump in his lower back, suprapubic catheter to manage his urinary issues, medications for hypotension events, a cane, then a rollator and finally to wheelchair in just one year because of frequent falling and loss of strength of his legs. I stopped working for his final 3 years as he could no longer be home alone. As a nurse, it made more sense for me to be home then to pay someone to be there. We utilized palliative care and hospice care for his final 2 years. He had aspiration pneumonia 5 times in his final 7 months of life. At death, he donated his brain for MSA research and an examination confirmed his diagnosis of MSA. Joe would survive for 7 ½ years from that first felt tremor in his left foot. He worked as a fire fighter for 32 years before he had to resign due to his lack of strength and frequent falls. He completed 16 years as an elected city councilman. He renovated/built our dream home. He loved spending time with his children and grandchildren. We made it to 36 ½ years of marriage. At age 61, he passed away peacefully at home in his bed.
It wasn't the "retirement" we had dreamed of or planned. His frustration with the lack of control over this illness and its progression made his peaceful final days to the next life that much better. He no longer needed to be frustrated that he couldn't do what he wanted to do. We miss him every day but know he wants us to live every day doing the best we can.
As a former caregiver, Garth Brooks' song "The Dance" speaks volumes (and a few tears) to me… …
"I'm glad I didn't know
The way it all would end, the way it all would go
Our lives are better left to chance, I could have missed the pain
But I'd of had to miss the dance…"