[rev_slider alias="web-product-light"]
HELP US 

DEFEAT MSA

NOW
Defeat MSA is an inclusive US based 501(c)(3) charity that aspires to balance efforts to support patients, educate medical professionals, raise public awareness and nurture promising research.
March is MSA awareness month. This year we are kicking off the month with the 4th Annual #Cake4aCure Campaign.
LOOKING FOR OTHER WAYS TO GET INVOLVED?
LOOKING FOR OTHER WAYS TO GET INVOLVED?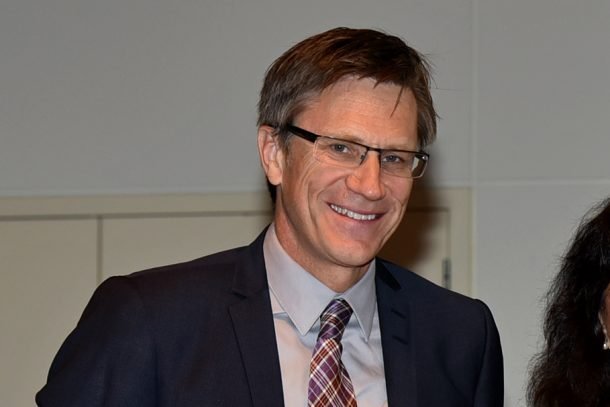 Patrik Brundin, M.D., Ph.D.
Director, Center for Neurodegenerative Science, Van Andel Institute, Grand Rapids, Michigan
Dr. Patrik Brundin is one of the top cited researchers in the field of neuroscience with more than 350 publications on Parkinson's and related diseases such as MSA. He has 35 years of experience studying neurodegenerative diseases, disease pathogenesis and therapeutic neural transplantation into people with Parkinson's. His current research focuses on pathogenic mechanisms of Parkinson's and related diseases as well as the development of new therapies that slow or stop disease progression or that repair damaged brain circuits. He was among the first to articulate the "prion-like" hypothesis of Parkinson's and MSA, which describes how abnormal proteins related to the disease spread from cell to cell in the brain, causing the cellular damage that perpetuates Parkinson's and Multiple System Atrophy.
List of Publications

Spotlight Links
about the
MSA Awareness Shoe – #KickMSA
The MSA Awareness Shoe ™ has traveled to dozens of countries, rubbed shoulders with some notable people and visited many famous landmarks. The Shoe is a tool for spreading MSA awareness, increasing support for MSA patients and their caregivers and fighting MSA by raising vital research dollars. It's journey is undertaken in memory of all those that have died due to MSA and in support of all those presently fighting Multiple System Atrophy!
To date, the Shoe has "Kicked MSA" in a dozen countries across the world. Learn more about the story and the globetrotting journey of the MSA Awareness Shoe. #DefeatMSA #KickMSA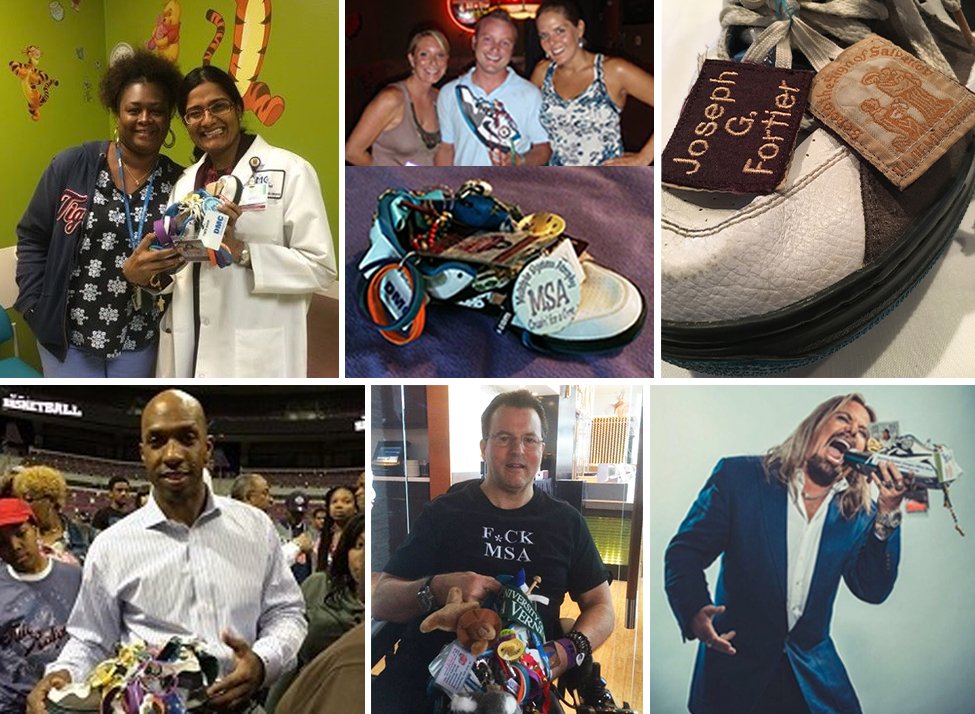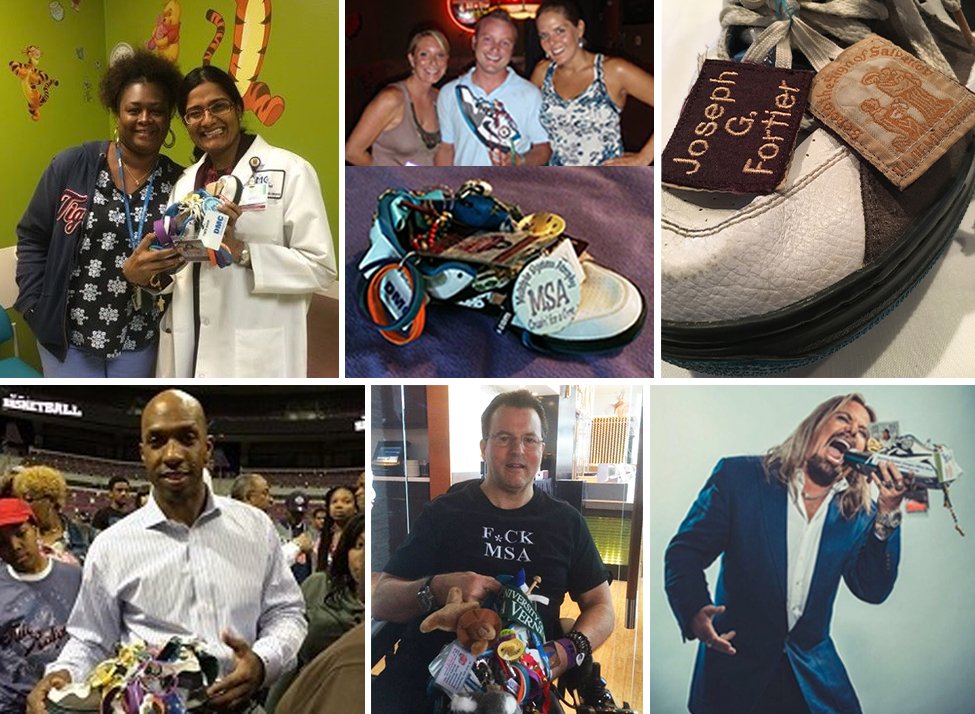 Join the world-wide MSA Awareness initiative
Join the world-wide MSA Awareness initiative
Defeat MSA invites all our friends & allies, around the world, to join us in this noble fight, to speak for those who cannot, with one mind, one heart and one voice: to defeat MSA forever!
The Defeat MSA special Individual Named Legacy Grants program enables donors to fund a scientific research, medical education, patient support or public awareness grant and name it in their own name, in tribute to someone or in memory of a loved one. The Legacy Grants program designates four levels of grants: $15,000 (Platinum), $10,000 (Gold), $5,000 (Silver) and $2,500 (Bronze). MSA research grants begin at the $10,000 level.
"Defeat MSA is a truly powerful organization, giving voice to those affected by this little known, devastating disease. I have watched this grass roots effort grow since the beginning as a work of love and devotion by its founders. Indescribable grief and suffering has been channeled into positive action to help fund research and provide support for others dealing with MSA. It is an important and worthwhile organization and I hope to see it continue to grow and prosper."
"I have observed this charity grow since it's inception. The charity remains true to its objective of supporting patients and families living with this dreadful disease, through support groups, loaner equipment through the loaner closet program, networking on social media to connect families sharing their experiences across the world. This disease does not have a marathon or a 5k run in its name; the charity uses an intriguing device: a shoe as a symbolic marathon to spread awareness among lay public about this devastating disease. "
Dr. Pratik Bhattacharya, MD, MPH
LOOKING FOR OTHER WAYS TO GET INVOLVED?
JOIN THE MOVEMENT TO #DEFEATMSA
Follow us on social media